Our Centre
Opening Hours
We are open Monday to Friday from 8.15am to 4.00pm
Closed Public Holidays
Garden Grove Montessori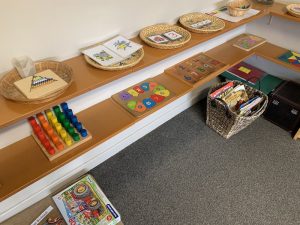 Welcome to Garden Grove Montessori, a fun place to learn and grow alongside caring, responsive teachers!
We encourage you to bring your child for at least two visits prior to their start date. This helps build familiarity with the environment and the routines and is the start of building relationships with staff and other children. You must stay with your child for these visits until their start date.
We are more than happy to show you around the Centre on your first day to familiarise you with the Centre layout and to gain a deeper understanding of our routines and Centre programme if you have not already done so. With this information you are better equipped to be able to talk to your child about the Centre, both at home or on route to the Centre, which can help with settling an anxious child.
On your first day, as you know your child best, you must make the decision on when to leave. When you leave, please say goodbye to your child and reassure them that you will be back at lunch time, or after lunch, depending on your booking time. Giving children a familiar routine (as opposed to a specific time) to focus on helps them to understand the concept of time easier and also helps them to understand the sequential order of events that take place at Montessori. More helpful hints on settling an anxious child can be read under "Settling In".

When we welcome a new family to our community, we welcome the child and their family. We encourage you to visit the centre at a time that suits you. An appointment is not necessary. We are happy to provide you with an enrolment form and a brochure on the centre. A $20.00 deposit is necessary with the completed enrolment form. Your child will be placed on our waiting list and we will seek to admit your child as soon as practically possible.