Montessori Philosophy

"Education should no longer be mostly imparting of knowledge, but must take a new path, seeking the release of human potentialities."

Dr. Maria Montessori
Our School

Opening Hours
We are open Monday to Friday from 8.15am to 4.00pm
Closed Public Holidays
Closed from 4.00pm, 22nd December 2017
Reopen 8.15am, 8th January 2018.
---
Curriculum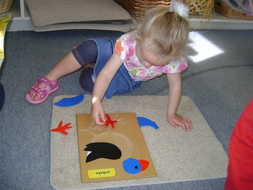 Garden Grove Montessori Preschool combines the Montessori philosophy with te whariki. We recognise that each child is an individual. We provide an interesting educational programme supported by:
· Fully equipped Montessori classroom
· Phonic and whole language learning
· Introduction of mathematics
· Study of science
· Project work
· Environmental education
· Art and creativity
· Music and movement
· Physical development skills
· Biology, geography and inclusive education
· Practical life and sensorial equipment
· Technology and computer studies
· Community links

When we welcome a new family to our community, we welcome the child and their family. We encourage you to visit the centre at a time that suits you. An appointment is not necessary. We are happy to provide you with an enrolment form and a brochure on the centre. A $20.00 deposit is necessary with the completed enrolment form. Your child will be placed on our waiting list and we will seek to admit your child as soon as practically possible.